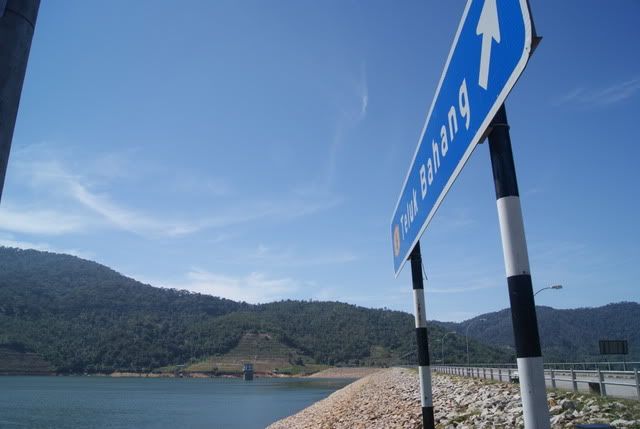 we search for batu feringghi beach and ended up here. we keep on asking to each other "are we there yet? are we there yet?" then we saw a sign board 'Teluk Bahang 1 km ahead'. apa ni dah lepas ke? suka macam tu tau!
well, i thought teluk bahang is one of the beach in penang. yes it is, tapiiiii....
tempat terlalu simple. simple? simple means it is not as interesting as in port dickson lah. it is just a small beach with a Caucasian man laying naked on the beach. bajet cover dengan pario orang tak nampaklah. haha..
by the way, we bumped in to this area, tertulis empangan teluk bahang. as i remembered, empangan usually cantik, like a big swimming pool and amazing rocks that can hold that huge amount of water. rasa macam nak berenang tapi tak tau bereneng - berenang.
tapi teluk bahang memang bahang lah. dah tengahari sangat, matahari atas kepala, haruslah bahang!
nice view kan? kalau petang atau ketika matahari terbenam pasti indah pandangan mata bak saujana mata memandang. apa ni perkataan berulang ni?
bersambung lagi..:)